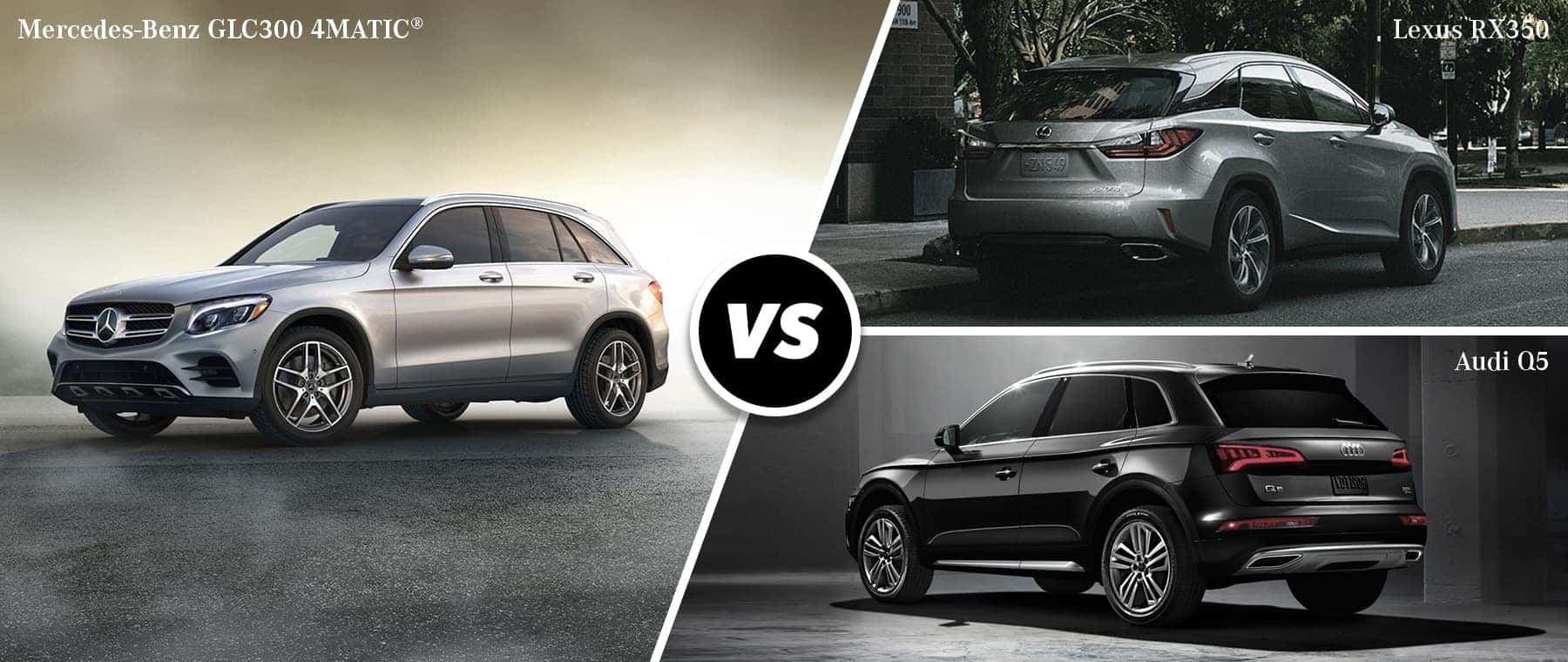 Mercedes-Benz GLC 300 vs Lexus RX-350 vs Audi Q5
The "utility vehicle" is evolving. No longer do we associate the class with Jeeps and Broncos; this is now a vehicle designed for the luxury-lovers. Gone are the days of those searching for the strongest weapon to combat rocky terrain and muddy slopes. We expect comfort, prestige and style from our "SUVs".
There is still power under the hoods, but more than likely it won't be pushed to the limit. Designers are focusing now on multimedia, customizable captain's chairs, interactive color screens, and climate control.
Prominent American manufacturers such as Ford and Chevrolet are being left in the dust, so to speak, of German and Japanese giants. Here we analyze Mercedes-Benz against Lexus and Audi.
Engine power and performance
MB GLC 300 4MATIC®Lexus RX 350Audi Q5
| | | | |
| --- | --- | --- | --- |
| Lowest MSRP | $42,050 | $43,570 | $41,500 |
| Engine size | 2.0L inline 4-turbo | 3.5L V6 | 2.0 L V6 |
| Horsepower | 241 bhp | 295 bhp | 252 bhp |
| Torque (lb-ft) | 273 | 268 | 273 |
| Fuel Tank capacity | 17.4 gal | 19.2 gal | 18.5 |
| Estimated MPG | 22 city / 28 hwy | 20 city / 27 hwy | 23 city / 27 hwy |
Basic but indicative numbers such as those listed above are ideal for non-gearheads. To be fair, the principal group of buyers is not looking too deeply into the mechanics. The SUV is now the car of the commuter, the shopper, the style-conscious. Fuel-efficiency is huge to this customer – the Mercedes-Benz GLC 300 tops the group, though marginally, in combined miles per gallon. By far the lightest of the three, Mercedes-Benz is focusing on those looking for the quickest, most agile vehicle for the price. The GLC reaches 60 mph from a stop in under six seconds, compared to the Lexus, which arrives at the same speed in a sluggish 7.7 seconds.
Multimedia accessibility is a necessity for today's consumer. It seems that the cabin now needs to match your living room's functionality if it wants to keep up. Let's explore some of each vehicle's interactive highlights:
MB GLC 300 4MATIC®Lexus RX 350Audi Q5
Central controller and 7-inch color display.
3 years of "Mercedes Me" connect services.
Comand navigation system with 3 years of no-charge updates (option).
Intuitive touchpad with rotary knob to control features (option).
Lexus Enform technology connection.
Appsuite offers access to mobile applications through center-console.
7-inch color display, optional 12.3-inch panoramic screen.
*Bluetooth® enabled voice-command controls entire system.
7-inch touch-screen with rear-view camera.
MMI Smartphone Interface, utilizing voice and steering wheel controls.
Audi Pre Sense basic intervenes to prepare vehicle for impact.
Quattro driving-assistance technology.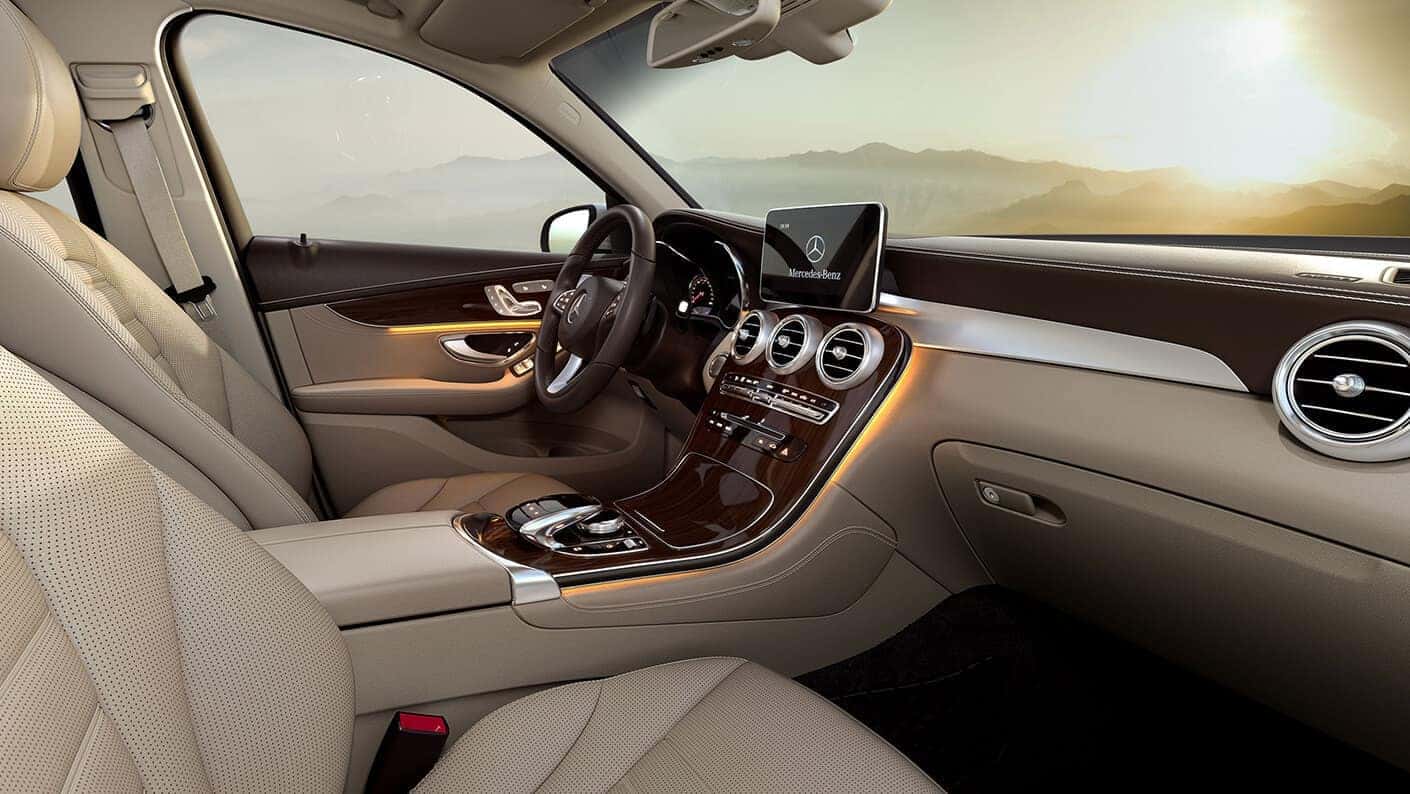 Of course, each vehicle comes with a litany of optional upgrades, all boasted but cleverly not mentioned as coming with constantly-added costs. The Lexus RX 350 never hesitates to brag about its "industry-leading" 12.3-inch interactive screen, but neglects to mention that it is available to those willing to spend thousands above MSRP. The GLC 300, on the other hand, delivers the Mercedes Me connection service and 3 years of standard technology upgrades as standard. This includes evolving with changes to the GPS, adapting to highway restructuring and route choice.
Brand-recognition plays a significant role in this battle. We might try to avoid sweeping generalizations, but there's no denying the status concurrent with driving a Mercedes-Benz. Audi is catching up, but interest lies more in the performance of the company's fast, roaring, performance coupes. Similarly, Lexus carries with it the stigma of teetering on the edge of upper-class, but still not on par with the Germanic brotherhood of automotive premiership.
Instant recognition is one of Mercedes-Benz' gifts. You know a C-Class when you see one. Moving into the utility vehicle category brings a new challenge for companies that rely on visual presence. Rather than shy away from the obstacles, Mercedes-Benz has transformed them into a utility vehicle that not only whispers luxurious comfort for the passengers, such as with the 14-way power driver seat (more than any in the class), but strolls past on-lookers with a streamlined, delectable stature.
The Lexus and Audi roll up with 18-inch alloy wheels. Though it may seem insignificant on paper, the 19-inch twin 5-spoke rims offered by Mercedes-Benz make a small but powerful statement. The GLC 300 comes with a flat-bottomed sport steering wheel, compared to its opponents' standard circle-wheel. Ostensibly minute differences like this, along with features such as the brushed-steel pedals and walk-up illumination, make the driver feel like they are at the game's pinnacle.